Streamlining Translation Processes in the Manufacturing Industry
There are many ways to influence how the translation process works. The goal may be to improve cost-effectiveness, speed the process up, or improve the quality of translations. How can you achieve these goals? Read on to find out.
Why should you care about optimizing the translation process?
What does optimization mean to you? Lower prices? Faster delivery? Quality assurance?
If your translation volumes amount to thousands of pages a year, or if you're translating hundreds of thousands or millions of words each month, doing everything to optimize the process is advisable.
The purpose of optimization is to eliminate as many manual phases as possible from the translation process. This saves money, and the time freed up from translation management can be used for core business operations.
Speeding the process up can also mean shorter times to market. If the launch of a new product depends on getting translations completed, the process needs to be fine-tuned. Product launches simply cannot be delayed because the translation is sitting in someone's inbox waiting for them to return from vacation.
Quality optimization is often about ensuring consistently high quality and consistent terminology, without undesired synonyms.
A typical translation process
Let's take a look at a typical translation workflow.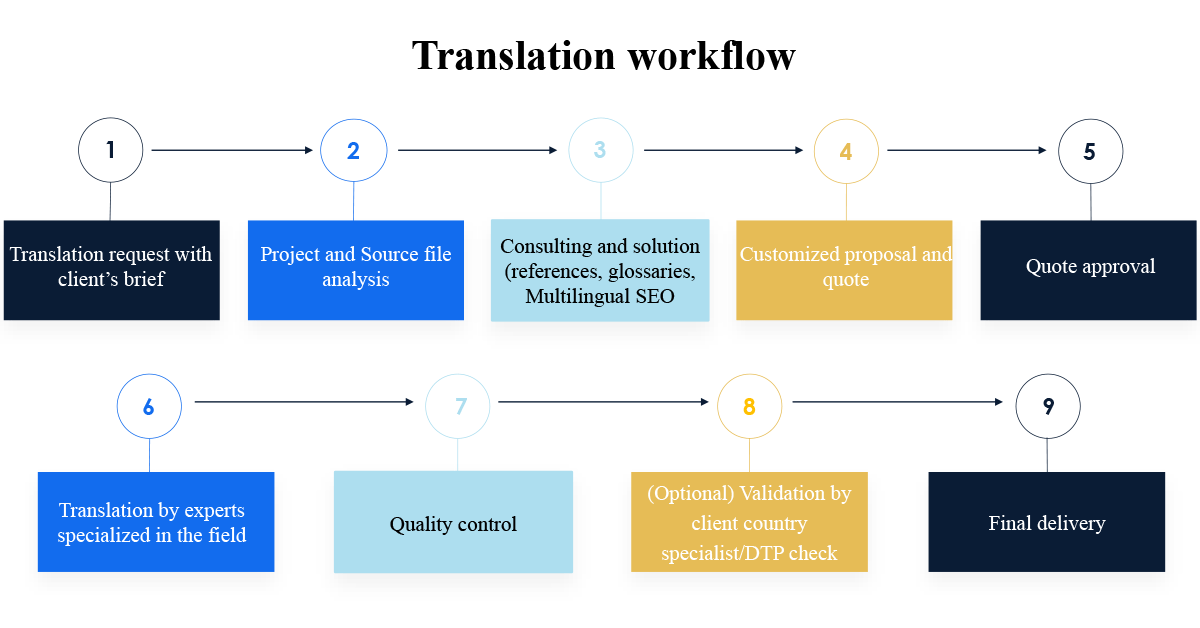 Email continues to be a common way to place translation orders. It feels natural to communicate this way, since many of us send emails all day at work.
However, this diagram reveals that the process involves many manual phases that require a response from someone, either the translation service provider or the customer. And this diagram doesn't even show any internal approval processes. This means that the process can take several days – or even weeks – to complete.
The process needs to be streamlined if translation orders are placed frequently and the amount of material is large.
What are the options for streamlining translation management?
There are many tools for optimizing the process. Many are so common that they are suitable for nearly all companies that want to develop and optimize their translation process. Even small improvements in efficiency can be significant.
Speed and efficiency
The diagram above illustrates a typical translation process. If the order is placed by email, at least five phases are needed before the text gets to the translator. And even before that, someone has produced the material to be translated and someone else may have proofread the text. This means that there are even more manual phases.
Improving efficiency through integration
Integration is the best way to minimize manual work in the translation process. Many intermediate phases can be eliminated through integration. In practice, this means that the customer delivers the material to the translation service provider directly from their content management system. In other words, the content is submitted directly from the content creator to the translator, and the translation is delivered directly to the content management system.
Ideally, content produced by a technical writer is transferred automatically to the translation service provider, or they can specify the target languages. The content is transferred to the translator or translators, and once the translations have been completed, they are delivered to the content management system for publication. In the meantime, the content creator can focus on other projects, and the process does not require input from multiple people.
You can find out more about integration in one of our earlier posts.
Machine translation for maximum efficiency
Machine translation could be the solution for you if you've already optimized the translation process to run as smoothly as possible, but you still need your translations more quickly. It works particularly well for a very high amount and frequency of translations. Machine translation is ideal when the translated material is intended for internal use only.
The quality produced by machine translation is not sufficient for use in every context. Machine-translated text needs to be post-edited if it's for a manual or documents that need to be easy to understand, especially if it's for critical safety instructions. In a translation process using post-editing, the source material is first translated using machine translation, and a human editor then checks the translation.
Combining machine translation with post-editing often saves both time and money.
You can read more about machine translation and post-editing here. We also have a previous post about machine translation.
Efficiency through translation memories
A translation memory is a universal tool in the translation process. It makes translation projects more efficient and faster. When the translation memory is comprehensive enough, the translation process gets faster, as previously translated content can be used in new translations. This means that the translator only needs to check whether the previous translation suggested by the translation memory fits the context, or whether it needs to be modified.
Translation memories are particularly useful when content that is quite similar needs to be translated on a regular basis.
Transparency and flexibility through customer portals
If integration isn't suitable and your translation volumes aren't high enough for machine translation, you can still boost your translation efficiency by using a customer portal.
The idea of a customer portal is to make ordering translations smooth and fast. The process is transparent: the customer can see how their translations are progressing. The portal can also be used for tracking the costs for each individual project, and overall translation costs.
One of the key goals of a customer portal is to reduce the need for emails. Placing orders is much faster and smoother when done through the portal, and it reduces the amount of administrative work as well. When employees who manage translations get ordering rights for the portal, they can place orders independently, without sending any extra messages and requesting approval. The translations can also be found in the portal, rather than only in the inbox of the person who ordered them.
Term banks ensure consistent terminology
Term banks and terminology management are good ways to make the translation process more efficient. Well-managed terminology banks make work easier for both content creators and translators. There is no need to clarify the terminology time and time again when the correct, agreed-upon terms can be found in one place.
Optimization in content management
The format in which the content is submitted for translation also affects the efficiency of the translation process. Translation service providers have excellent capabilities to process almost any file format, depending on your needs.
Does the produced content need to be transferred or copied from one system to another before it can be forwarded? Do you need to create a Word file for translation? This often means that the process needs to be repeated in reverse order once the translation has been completed, to transfer the translated content back into the content management or publication system.
If the content management system allows produced content to be exported and imported in XML format, for example, this is a step in the right direction. The key is to avoid copying and connecting content from one system to another.
Quality
When the translation process has been fine-tuned, it's time to focus on quality. What are the quality factors in the process?
Translation memories and term banks are significant in this respect, of course, but what else is important?
Validation ensures quality
Country-specific validation can be included in the quality assurance process. In this process, an employee with strong knowledge of the target language checks the translation before final delivery. This phase ensures that the translation meets local requirements in terms of both language and legislation.
The validation process can also be automated, meaning that the content does not have to be sent separately to each country.
Translation memories remember all previous translations
A translation memory ensures high quality, especially when the content being translated is relatively similar. It allows previous translations to be reused for consistency.
A translation memory also ensures consistency when a large translation project needs to be divided between several translators because of a tight schedule.
Alongside a translation memory, an up-to-date term bank also affects translation quality. It ensures consistent terminology across all translations and languages. In addition to helping with technical terminology, a term bank allows for effective search engine optimization.
If at all possible, a term bank should be introduced as early as possible, but it's never too late to start.
Read about our TermBANK solution for ABB.
Creating a term bank requires work, but the customer can also produce preliminary content by using our template.
Cost-effectiveness
Translation memories, integration, machine translation and centralization are key when optimizing the cost-effectiveness of the translation process.
Cost savings through translation memories
A translation memory is a universal tool in the sense that it affects not only quality and speed, but also cost-effectiveness. The project-specific cost savings achieved through a comprehensive translation memory can range from a few percent to a few dozen percent.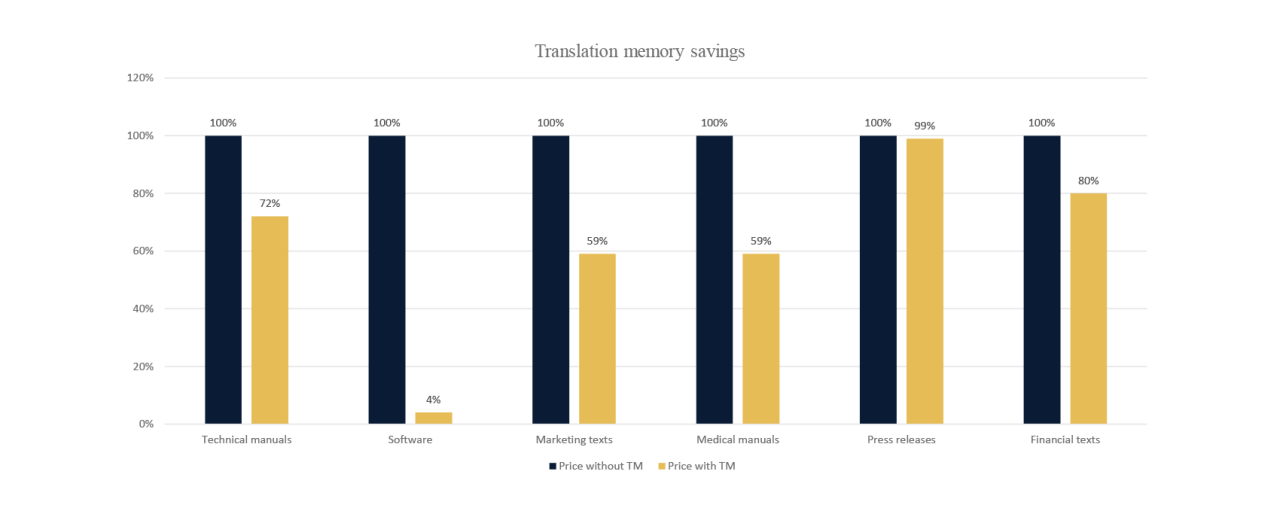 *The figures in the graph are based on a statistical analysis of Acolad Nordic's translation memories. They have been collected from projects with optimal cost savings.
Translation service providers always use translation memories. A translation memory is created for each new customer and is continuously developed. This means that if a customer changes service providers as a result of a more competitive bid, for example, it's important to provide the new service provider with the translation memory to prevent its development work from being lost.
Integration reduces manual phases
In integration, cost-effectiveness is based on significantly reducing the amount of manual work. The process does not require input from several people. Content can be submitted for translation with minimal manual work.
Integration can save dozens – or even hundreds – of hours of work.
Machine translation for managing large volumes of text
Machine translation improves not only efficiency, but also cost-effectiveness. Large volumes of text can be translated in just a few minutes. Combined with post-editing, machine translation is a cost-effective solution when large amounts of material need to be translated frequently.
There are many ways to optimize the translation process. Explore your options!
Two or more methods can be used simultaneously to streamline the translation process. Some methods require a little more preparation, but each method pays for itself through time or money saved, or both. The first step toward a more streamlined translation process is to contact your translation service provider.
Are you wondering which of these methods would be best for your company? Or do you need a more tailored approach? Contact us, and our experts will help you choose the best solution for further developing your translation project.
Read about our translation partnership with Alfa Laval.