Going global? Why you need a localized content strategy first
Digital globalization is one of the hottest topics of the 21st century. Consumers are increasingly making purchases online. Thanks to the global pandemic, more business than ever is done virtually and across borders.
While this presents enormous opportunities for growth, it can also create gaps: can your entire international audience navigate your website, relate to your marketing campaigns, or even understand your brand name and slogan? To ensure this, it's important to have a global branding strategy with localized approaches for each market or region. But to start, you need to know what the right languages are – and will be in the future.
According to recent research by Common Sense Advisory (CSA), based on population estimates for the next six years, the number of languages you'll need to include in your business efforts will increase. This may have an effect on your overall business strategy.
How globalization affects translation and localization
While there are over 7000 different languages spoken globally, only 23 of them cover 50% of the world's population. When it comes to the digital world, the top four languages used online are:
English (25,9% of the global audience)
Simplified Chinese (19,8%)
Spanish (7,9%)
Arabic (5,2%)
A multitude of circumstances create new challenges when it comes to reaching international audiences and achieving global growth, as the target is constantly moving. While there are many factors at the cause of the shift in language demands, these are the top four driving forces:
Increase in internet users
According to recent estimates, over 4,6 billion people are active internet users. This is about 59 percent of the global population. These audiences come from all parts of the world, and they represent a valuable opportunity to reach a broader consumer base. The number will only continue to increase over time, and so does their buying power. The new users represent almost endless opportunities to increase global revenue.
Use of mobile and IOT devices
The use of smartphones, tablets and wearables, as well as the Internet of Things (IoT), a spectrum of devices which communicate actively over the internet, has penetrated the global market over the past several years – and this is an upward trend. From 2017 to 2027, the usage of respective devices will have increased by 55 percent.
Over six billion people worldwide are smartphone users or early adopters of other wearable gadgets. Global brands must focus their efforts on catering to those buyers – who may not even have access to a desktop computer, or who simply prefer to interact from their mobile devices.
Demographic changes
Increased demand for internet access is also being fueled by demographic changes; over the next six years, the Population Research Bureau expects the total world population to grow by as much as 12 percent, which would take the world's population from 7.9 billion to 8.3 billion by 2027.
Growing GDP
Increases in gross domestic product (GDP) have been known to correspond to internet access and population changes. Conversely, the three previous factors – increasing number of internet users, use of different devices, demographic changes – contribute to growing economies. The global GDP is expected to have increased by 5,6% over 2021, the largest growth in 80 years. Anticipating the subsequent changes in the demand for languages relevant to your online business is an easily overlooked factor – to stay ahead of the curve.
What will be the most relevant business languages in the future?
With the looming probability that the global population will continue to grow exponentially, we look ahead to 2027 – to determine where you need to focus your translation and localization efforts.
Over the next six years, we can expect to see the demand for English and some European languages to decline slightly, while the demand for Asian languages will increase. With a population that includes over half of the world's citizens and ever-increasing internet penetration, it makes sense for businesses to expand into Asian markets.
Also be prepared for a rise in the demand for localized content from up-and-coming markets such as the Philippines, Bangladesh and different regions in Indonesia, as the number of people with internet access and smartphones in those countries is consistently growing.
Overall, the list to reach 90% of the online GDP in 2027 will be made up of 17 languages, one up from the 16 languages expected for 2022:
Top online languages in higher demand for business by 2027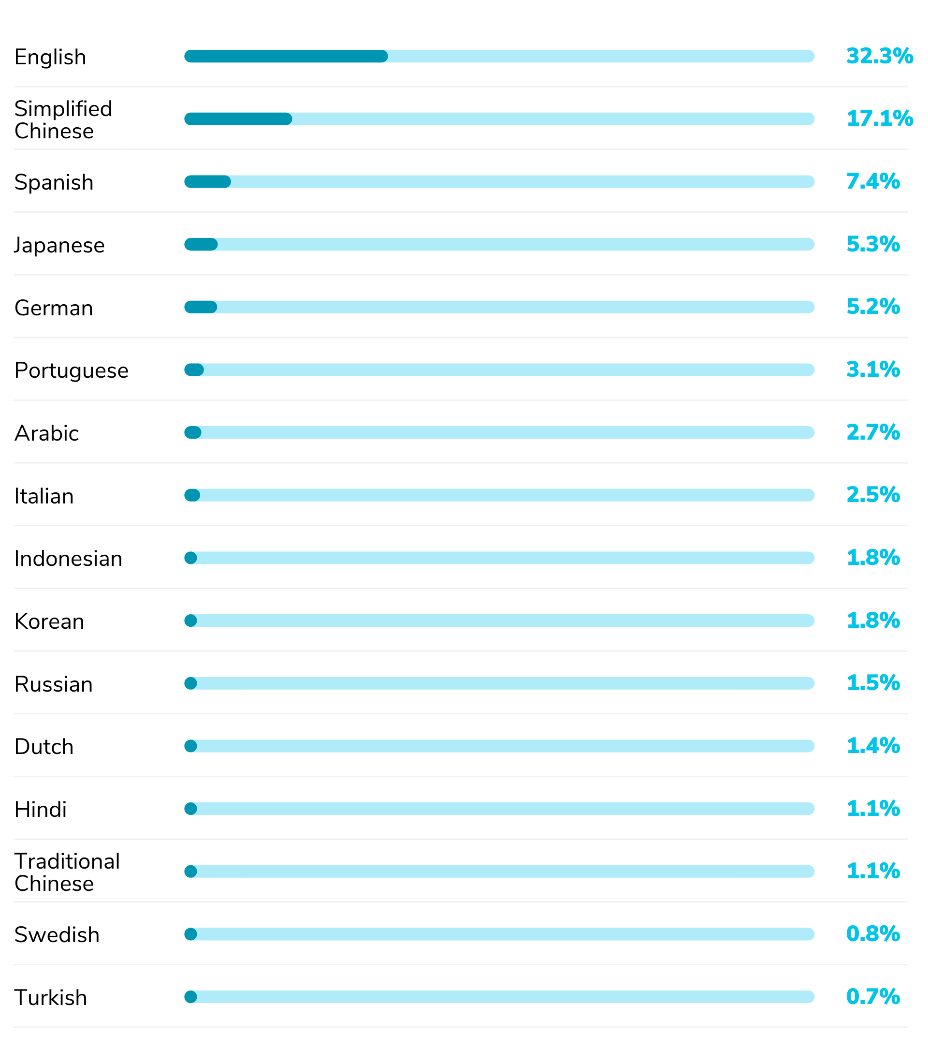 By 2027, these languages will dominate the online business world.
We may also see a decrease in the demand for Japanese, largely due to a decline in population.
Some of the proposed percentages may look small, but translated into actual headcount, they easily represent market opportunities businesses can't afford to miss. The Turkish market for example is made up of over 55 million people; in Indonesia, where internet penetration has increased exponentially, there are currently 202.6 million online users, a number that is expected to continue to increase.
Final thoughts

While it's always helpful to be armed with the foresight of your brand's next strategic move, there are a few other factors to take into consideration when planning your business localization strategy:
Where do you want to do business?
In what countries does your company currently have a presence?
Where is your online traffic coming from?
Which specific locations demand a presence where there is none?
It wouldn't make sense to just translate your content into every language possible if it can't deliver on your promise to the respective audiences. Furthermore, your translation budget would likely not support such practice; spreading your business too thin by trying to do too much isn't beneficial.
It's best to focus your efforts on your current and desired markets and ensure your success there, still being on the lookout for opportunities in new and booming markets. The language trends explained above help you identify where those can be for your business.